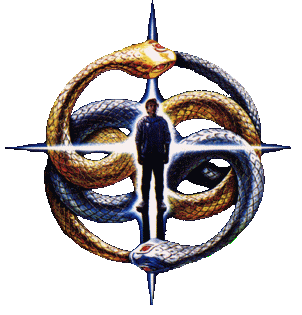 The Auryn
The Auryn is the Childlike Empress's golden amulet that Atreyu wore during his quest to save Fantasia. The Auryn protects and guides the bearer and shows to all that he is the Empress's representative. When Bastian was to rebuild Fantasia, the Childlike Empress left the Auryn with him. Bastian discovered an inscription on the reverse side:
Do What You Wish
"...The words gave him permission, ordered him in fact, to do whatever he pleased."
Ouroboros
The Auryn symbol of snakes biting each other is derived from an ancient symbol called an ouroboros. Many different ancient cultures had such a symbol. You can read the Wikipedia article about the ouroboros.