Book Covers and Information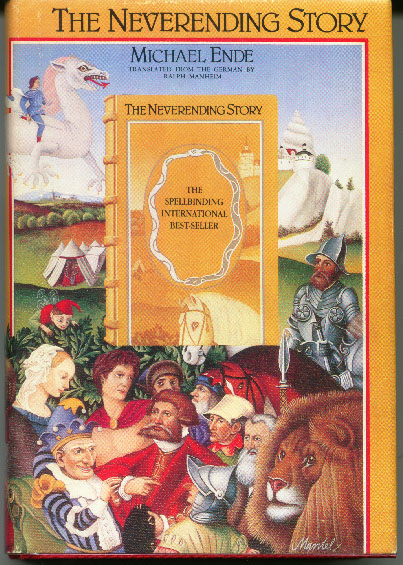 | | |
| --- | --- |
| publisher | Doubleday and Company, Inc. |
| ISBN | ? |
| price | $15.95 |
| cover type | hardback |
| cover design | Richard Mantel |
| cover illustration | Richard Mantel |
| publishing year | ? |
| text style | red and green text |
Jacket Text
1st panel
It begins when you are a part of it too...
Only once in a great while do stories come along that fulfill our deepest longing - our wish to experience true enchantment. THE NEVERENDING STORY is such a fantasy: the magical tale of a lonely, solitary boy who steps through the pages of a book into a special kingdom. There, in an imaginary land, on a special and dangerous quest, Bastian learns the true measure of his own courage. And learns that even he has the capacity to love. A best seller in 27 countries - and in all languages of enchantment - THE NEVERENDING STORY is coming soon as a major motion picture, directed by Academy Award nominee Wolfgang Petersen, and distributed by Warner. Bros.
2nd panel
THE WHOLE WORLD IS DISCOVERING THE STORY AMERICA IS ABOUT TO FALL IN LOVE WITH...
"It is passionate, courageous, marvelously artistic plea for the right of fantasy to live on: in literature and ourselves" - Frankfurter Allgemeine Zeitung
"The NeverEnding Story is rich in imagination and love, told with the simple and ancient language of fable." - Oggi magazine, Milan
-- picture of Michael Ende --
Since the orginal publication of The NeverEnding Story in Germany - and its subsequent success on best-seller lists around the world - Michael Ende has become a veritable publishing phenomenon. The NeverEnding Story is his first book published in America.
Jacket Art and Design by Richard Mantel