Book Covers and Information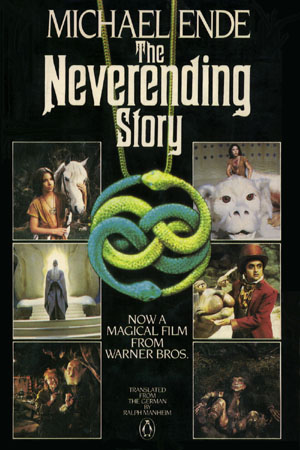 | | |
| --- | --- |
| publisher | Penguin Books |
| ISBN | 0-1400-7619-0 |
| price | $6.95 |
| cover type | paperback |
| cover illustration | ? |
| publishing year | ? |
| text style | normal and italicized text |
Jacket Text
Back cover
The most exciting adventure ever written is now an action-packed film from Warner Bros. Here are all the wonderful inhabitants of Fantasica--the Rock Biter, the Racing Snail, Falkor the luckdragon, the beautiful young empress, and the brave warrior Atreyu.
Take a breathtaking journey to a magical land and join the forces battling the fearsome Nothing, which threatens to destroy all that is good. Like Bastian, the lonely boy who discovers the power of his own imagination, you'll be drawn into a world you've never experienced before.
The Neverending Story--it begins when you become part of it too.