Book Covers and Information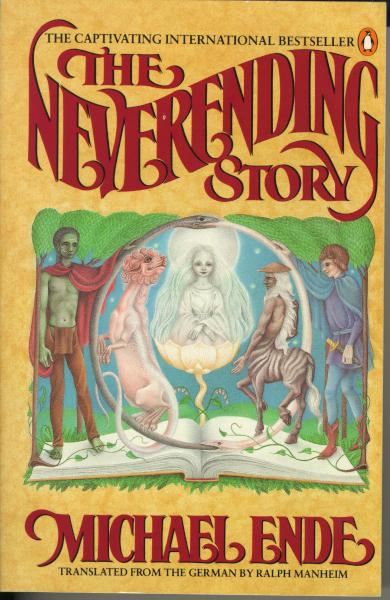 | | |
| --- | --- |
| publisher | Penguin Books |
| ISBN | 0-14-007431-7 |
| price | $11.95 / 14.99 CAN |
| cover type | semi-softback |
| cover design | Neil Stuart |
| cover illustration | Kevin King |
| publishing year | 1984 with recent reprints |
| text style | normal and italicized text |
Back Cover Text
Journey to Fantasica--
Where Dreams Become Reality
Unicorns, dragons, sprites, will-o'-the-wisps: the inhabitants of
an enchanted world. And into this world--through the
pages of an old book--ventures Bastian, a lonely boy of ten. But
Fantastica is slowly decaying, its Childlike Empress dying. Only
a real human being can set things right by giving the Empress a
new name. Bastian takes up the challenge, and finds himself
crossing the Swamps of Sadness and the Silver Mountains,
meeting sorcerers and giants, bats and night-hobs, gnomes and
racing snails, as he journeys bravely toward the Ivory Tower.
Bastian's quest is filled with all the wonders of myth and fairy
tale. It is a fantasy adventure that will capture your heart--
and recapture the magical dream of childhood.
"An instantaneous leap into the magical...energetic,
innovative, and perceptive"--Washington Post
"Another Watership Down, a work of remarkable and
suggestive vision of what life can hold for those
who dare to look"--The Economist
"You might just get in touch with the child in you who clapped
her hands for Tinkerbell."--Glamour
"A trumpet blast for the imagination" --Sunday Times (London)