Book Covers and Information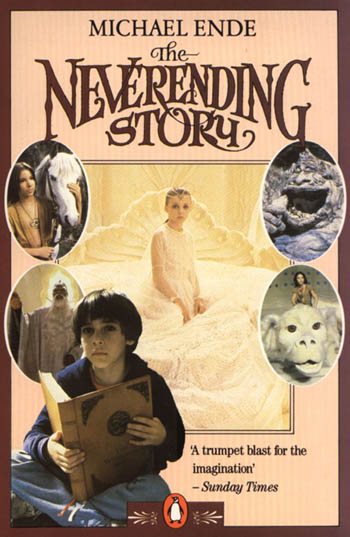 publisher
Penguin Books
ISBN
0-14-010867-X
price
$9.95 CAN / $12.95 AUST
$14.99 NZ / 4.50 UK
cover type
softback
cover design
?
publishing year
?
text style
?
Jacket Text
'An instantaneous leap into the magical' - Washington Post
Small and insignificant, Bastian Balthazar Bux is nobody's idea of a hero, least of all his own. One day he steals a mysterious book and hides away to read it - only to find himself stepping through it's pages into the world of Fantastica. Enchanted, perilous, dying, Fantastica is waiting for a Messiah, it's faery people doomed, until Bastian appears as their Saviour - and in doing so saves himself.
'A tale of magical adventure, pursuit and delay, danger, suspense, triumph' - The Times Literary Supplement
'Another Watership Down, a work of remarkable and suggestive vision of what life can hold for those who dare to look' - Economist
'It's a masterpiece... I was entranced and couldn't put it down... a superb creation' - Scotsman