Book Covers and Information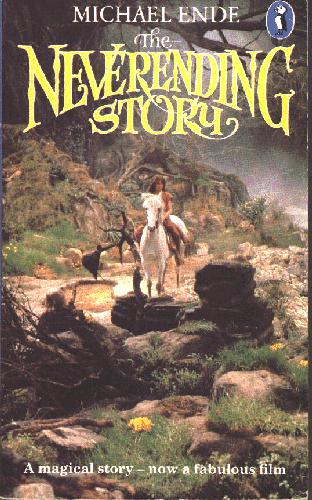 | | |
| --- | --- |
| publisher | Puffin Books |
| ISBN | 0-14-031793-7 |
| price | $4.99 / 5.99 CAN |
| cover type | softback |
| cover photo | outtake from movie |
| publishing date | 1/5/1984 |
| text style | normal and italicized text |
Backcover Text
Part legend, part fable, wholly fascinating, The
Neverending Story is a multi-million-copy worldwide
publishing sensation.
Small and insignificant, Bastian Balthazar Bux
is nobody's idea of a hero, least of all his own.
Through the pages of an old book, he discovers a
mysterious world of enchantment - but a
world that is falling into decay. The great task of
making things well again falls on Bastian,
and there follows a magically evocative story to
fulfil your deepest longings.